India take on England on Sunday in Pune in the first of three ODIs between the two sides. The hosts have made several drastic changes to both their ODI and T20 squads. However, India's team is hard to predict. An injury blow to Rohit Sharma has opened up a space at the top of the order, but it is not clear whether Ajinkya Rahane or Shikhar Dhawan will replace him.
India's pace attack is far from certain as well. A huge concern for India is the absence of fast bowler Mohammed Shami. Shami, who picked up a knee injury during the Test series with England, is still not fit to play. India's ODI side is by no means set, and the selectors will have plenty to consider in the run up to the first match.
Opening Dilemma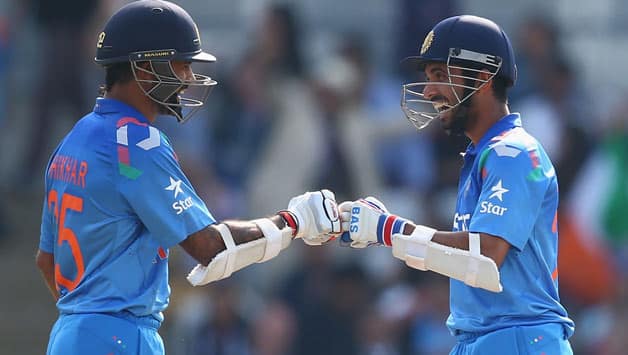 As mentioned above, Rohit Sharma has been ruled out of the ODI series through a thigh injury. Latest scans show that he will be ruled out for up to eight more weeks. There is no clear successor to him. There are currently three players who could potentially open for India, who are Lokesh Rahul, Shikhar Dhawan and Ajinkya Rahane.
In the most recent ODI series India played against New Zealand, it was Ajinkya Rahane who opened alongside Rohit Sharma. Rahane has opened for the Indian ODI side on numerous occasions, but has recently experienced a dreadful run of form. In the recently concluded Test series with England, Rahane only managed a feeble 63 runs in five innings. He missed the last two Tests through an injury but India did not miss him much. If Rahane is selected behind Rahul and Dhawan, it may be possible for him to play lower down the order. Rahane usually bats at number five in Tests and he has sometimes adopted a similar position in ODI matches.
Another out-of-form opener is Shikhar Dhawan. Dhawan has not played an ODI for India since India's tour of Australia, early in 2016. It has to be said, however, that Dhawan flourished in that series, with scores of 68, 126 and 78 showing fine form. Unfortunately, Dhawan missed the ODI series against New Zealand through a thumb injury, but his Test form running up to the injury was poor. Dhawan struggled to make runs in the West Indies and failed in the one match he played against New Zealand. As a result of this, selectors were keen to omit him from the ODI squad, citing an injury was the reason for his absence. Yet, Dhawan soon returned to domestic cricket and proved that he may have been fit for the series. Dhawan is lucky to be given another chance, but based on his limited overs form prior to injury it may be the case that he is given the benefit of doubt. The competition between Dhawan and Rahane has no clear winner and it may be necessary to drop Rahane down the order to accommodate both players.
Lokesh Rahul is likely to be India's first choice opener heading into the series. Rahul made his ODI debut last summer, as India took a very young side to play against Zimbabwe. He had an immediate impact as he blasted an unbeaten hundred in his first match. The style in which he played was exceptional, launching a six to win the match and to reach his hundred. Rahul, who rose to fame in the IPL, also had an exceptional Test series against England. The highlight for him will be his 199 in the last Test, as he contributed 223 runs for India in four innings. Taking into account his recent form and previous limited overs success, Rahul should be viewed as the best opener out of the three players.
Batting Unit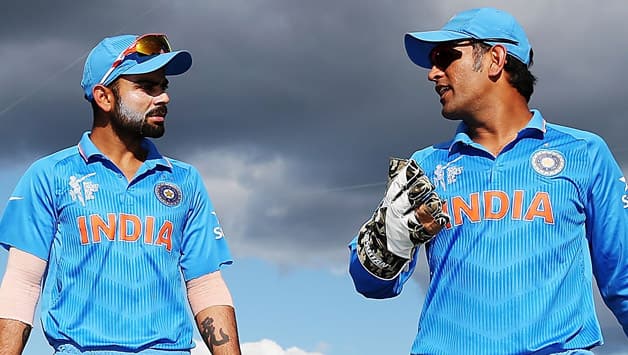 Once you look past the opening dilemma, India's top and middle order nearly pick themselves. India are extremely fortunate to have arguably the most talented batsman in world cricket in their side. Virat Kohli, India's new limited overs captain, will undisputedly keep his usual position at number three, where he has scored a phenomenal number of runs in the past few years. To move him around the order would be a travesty, as India should not change anything with Kohli's batting.
Former captain Mahendra Singh Dhoni and Manish Pandey are almost certain to bat at numbers four and five. However, in the series against New Zealand, they constantly swapped positions depending on the situation. Both players are extremely talented, but Dhoni tends to come in slightly earlier when India are in a bad situation so that he can steady the ship and build a platform. While Dhoni and Pandey should be included in the line-up, the position in which the bat should remain flexible and determined according to the situation. They each have experience batting in both spots, and India are lucky to have a middle order like this.
Kedar Jadhav was India's designated number six for the ODI series against New Zealand. His place is under heavy competition now, though, as Yuvraj Singh was recalled to the ODI squad. Jadhav and Yuvraj are relatively similar players, both handy all-rounders who bat lower down the order. It is a tough decision to choose between the two. Yuvraj has had a far better domestic season than Jadhav, and is the more experienced of the pair. Yet although Jadhav didn't have the most successful series against New Zealand with the bat, only managing a handful of runs, his performance with the ball was exceptional. The all-rounder has a useful trait of being able to consistently pick up wickets throughout the innings and was a revelation to Indian fans.
Picking Yuvraj, who offers no guarantee that he will be as destructive as his former self, is a gamble, but one which is definitely worth taking.
All-Rounders

Ravindra Jadeja and Ravichandran Ashwin are currently the two best Test bowlers in the world. However, they are both extremely useful batsman. Ashwin showed in the Test series against England that he was capable of being a top-order batsman. He averaged close to 60 in the Test series against the West Indies and averaged around 43 against England. Ashwin is yet to be as prolific with the bat in limited overs cricket and now is a great opportunity to show it. His current ODI batting average of 16 is likely to be significantly improved over the coming series. Ashwin's bowling doesn't need to be questioned, his recent performances speak for themselves. He was ranked as LastWordOnSport's best player of 2016, as he tore through many sides with ease.
Jadeja's batting is almost the inverse of Ashwin. Jadeja excels more in limited overs matches, as it suits his more aggressive style of play. He has saved India on numerous occasions, and demonstrated his ability to be able to finish games efficiently. His bowling is equally impressive. Jadeja rushes through his overs at an extremely fast pace, and bowls with an extremely tight economy rate. His career economy rate is well below 5, showing just how miserly he is. Jadeja is a useful asset to any side and should be one of the first names on the team sheet.
Hardik Pandya is one of the few fast-bowing all-rounders India has to offer. Pandya, a product of the IPL, demonstrated his skill in the World T20, where he secured a dramatic last over victory for India, but is yet to have a proper chance in the Test side, despite being in the squad on several occasions. Pandya offers plenty with both bat and ball as he consistently delivers in all aspects of the game. He is a key part to any side, as he allows for a greater depth in the batting unit. If India were to play Pandya along with Yuvraj, Jadeja and Ashwin, they would be able to have recognised batsmen all the way down to number nine, as well as having six or seven bowling options. This would make the side extremely versatile and provide lots of security in case of a top-order failure.
Fast Bowlers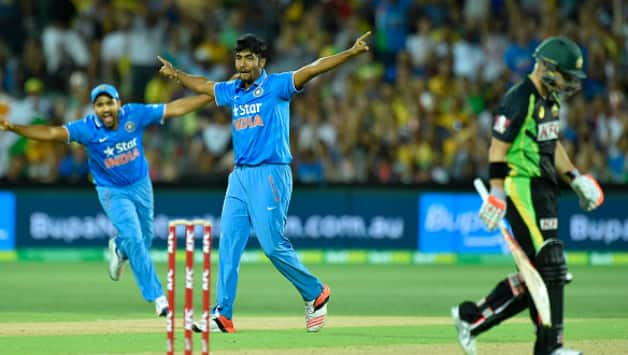 India are missing their frontline ODI bowler Mohammed Shami through injury. Shami has been a key component of India's bowling attack for many years and is an extremely tough player to replace. If India play Hardik Pandya, it is very likely that they will play two other seamers as well. Jaspirit Bumrah has recently developed into one of the best limited overs bowlers the world has to offer. Bumrah is now ranked as the second best T20 bowler in the world and is famed for his pin point yorkers. He is especially useful at the death in the end overs, but has shown in the past that he is capable to swing the ball early on. With the absence of Shami, Bumrah is likely to be spearheading the Indian attack.
The competition for the other seamer is fierce, with two other fast bowlers in the squad. Umesh Yadav and Bhuvneshwar Kumar are both in contention for a spot, with neither having a clear advantage. Recently, Yadav has been in favour with the selectors, as he managed to secure a clear spot in the Test XI. However, he is notorious for being slightly wayward at times and very expensive, as a result of his raw pace. The opposite is true with Kumar, who is extremely accurate but cannot offer much speed. Yet, the amount he is able to swing the ball definitely makes up for it. It is key to look at the rest of the fast bowling unit to see who India should select. Both Pandya and Bumrah are capable of providing the pace India need, so it could be the case that India turn to Kumar to provide a swing option at the start of the innings. Kumar's economy rate is significantly lower than Yadav's, and economy is key in the subcontinent where the flat pitches are unlikely to provide much assistance for the fast bowlers. For this reason, Kumar should be selected ahead of Yadav and judging by his recent performances, he should be a real threat to England.
Possible India XI:
Shikhar Dhawan
Lokesh Rahul
Virat Kohli (c)
MS Dhoni (wk)
Manish Pandey
Yuvraj Singh
Hardik Pandya
Ravindra Jadeja
Ravichandran Ashwin
Bhuvneshwar Kumar
Jaspirit Bumrah