As 2017 approaches, our countdown of 2016's top 25 international cricketers continues, featuring two players who have excelled in one format and struggled in others, a throwback top-order batsman, one of the world's best all-rounders and a South African who has enjoyed a breakthrough year.
15. Ben Stokes
By Luke Flannigan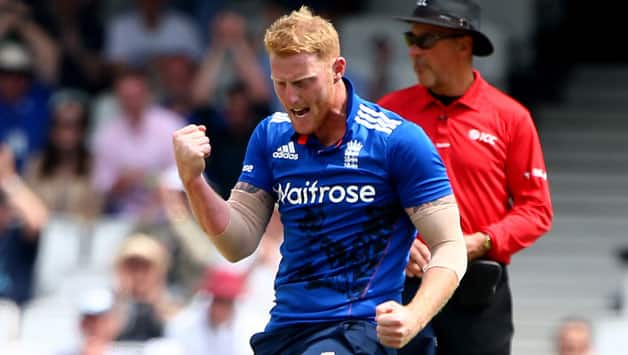 England's remarkable transformation in white ball cricket was manufactured from a desire to be fearless; an ode to Brendan McCullum's infectious impression on the cricketing world. Coincidentally, it would be another man of Kiwi descent that would perpetuate this legacy.
Ben Stokes' year has provided all of the attributes that create sporting legend. World Cup heartache, feisty on-field confrontations, a ridiculous double hundred and consistent showings in all formats.
He played one of the most absurd Test innings of all time. Blasting 258 off 198 balls ; the spectacle was both vicious and exhilarating. It was reminiscent of a dog rag-dolling its favourite chew toy; he single-handedly pulverised South Africa's spirit, and England would later go on to claim a rare away series win.
Stokes also had a fantastic World T20 campaign with his role being redefined as the steely-eyed, lion-hearted, death bowler. He relished the new responsibility utilising the toe-crunching delivery to excellent effect, providing game winning performances against Sri Lanka and New Zealand. However, he was not good enough on the day to tame the best in the ball-striking business. Despite leading England to only a second Final appearance, he was flogged for four consecutive sixes in the final over of the match by Carlos Braithwaite to cruelly pry his fingertips off the trophy.
Since then he has responded emphatically. An average of 69.8 with the bat in seven ODIs and an inspired showing in the first half of England's sub-continent tour identified him as the crucial wicket to England's resistance in India. His excellent 85 and crucial spell of nasty reverse swing, (match figures of 6-46) denied Bangladesh of a glorious piece of history in the first Test; they were of course to later avenge this and tie the series.
14. David Warner
By Tyler Maher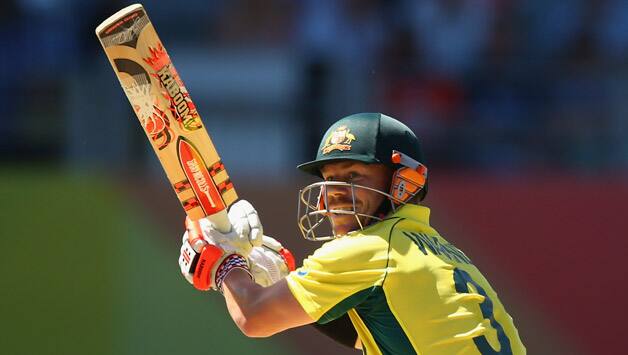 David Warner came onto the international scene as a limited overs slogger and, despite being named in the ICC Test team of the year (due mostly to his red hot late 2015 form), it was his exploits in the shorter forms of the game that see him high up on the list of superstars of 2016.
Warner crafted seven ODI centuries for Australia in 2016 from just 23 innings, with 1388 runs at an average 63.09 and strike rate of 105.47.
Those are astonishing numbers any way you look at them, especially combined with Warner's role as an opener against two swinging new balls, but when put into historical perspective they increase in importance.
Warner's seven tons in a calendar year is the equal second-highest behind Sachin Tendulkar's 9 in 1998 and alongside Sourav Ganguly in 2000, but those records came from 33 and 32 innings respectively compared to Warner's 23.
With four centuries in his last six ODIs of the year, Warner also came close to Virat Kohli's record of 617 runs in six consecutive innings', belting 595 runs.
The Australian vice-captain couldn't quite translate the short form runs to the Test arena, only making 639 runs at 37.58 before the current Boxing Day test against Pakistan, but his ODI year was certainly one for the ages.
13. Moeen Ali
By Matt Roller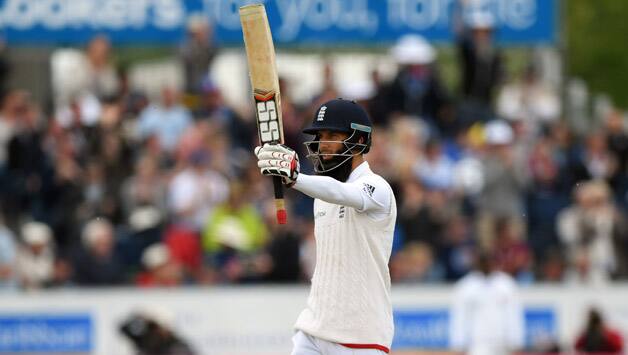 At the start of the 2015 Ashes, I suggested that Moeen Ali's performance in the Cardiff Test – he hit an important half-century and took five wickets in the match – would be his breakthrough performance for England. Instead, it has come to show why despite frustrating many fans, the management considers him to be an invaluable player in all three formats.
Statistically, Moeen has had a relatively average 2016. His Test batting average of 46.86 for the calendar year is noticeably higher than his 35.03 career average, but his bowling average and strike rate are both 25% up on his career record. Furthermore, his ODI batting has regressed – although it must be noted that he has tended to come in at number seven with the task of scoring quick runs, a role to which his skills are not suited – and his bowling has been slightly less potent than previously.
And Moeen's place in the England side is under no real threat. He is probably the most versatile batsman in world cricket, having batted everywhere in the order from one to nine while playing innings varying from his 281-ball 108 not out against Sri Lanka in 2014 to his unbeaten 155 against the same opponents two years later at double the strike-rate. Even if his bowling has been underwhelming this year, it is important to recognise that in a team that tends to field six or seven bowlers, Moeen's bowling can act as a trump card if the pitch turns, but is not necessarily something to rely on.
With four Test tons against three different opponents and over 1000 runs in 2016, Moeen's batting alone means he deserves a position in this top 25; when his bowling and the sheer number of games he has played (17 Tests, 15 ODIs, 9 IT20s) are taken into account, it is easy to see why our writers think so highly of him.
12. Cheteshwar Pujara
By Arjun Bhardwaj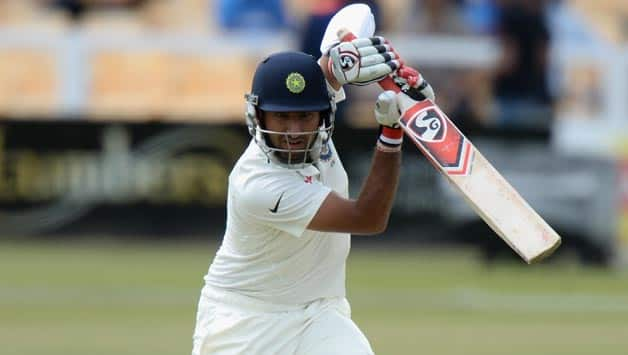 India's number three, Cheteshwar Pujara has had a phenomenal year. A Test specialist, Pujara scored an impressive 836 runs this year at an average of just short of 56. While he has played the supporting role to Virat Kohli in many Tests, Pujara's dedication has been admirable. He is a classic Test batsman who primarily focuses on occupying the crease for long periods of time and is not afraid to grind out gritty performances in tough conditions. This can be shown in his performance against England where he was hit by Chris Woakes three times at the start of the innings, but he fought through the pain and went on to amass a century.
Pujara's year didn't get it off to the best of starts. His first tour this year came in July, as India travelled to the West Indies for a four-match series. On a relatively flat pitch in Antigua, Pujara failed to make the most of a solid start and it set the tone for the rest of his series. He battled his way to 16 off 67 to steer India safely to lunch, but threw away his wicket in the over after lunch. It was a similar case for the second Test in Kingston, where Pujara made a solid 46 but failed to capitalise on his start once again.
It was a disappointing series for him, but he soon made amends. In September, New Zealand travelled to India in what would be a disastrous series for the Kiwis. While the majority of their problems were caused by the spin duo of R Ashwin and Ravindra Jadeja, New Zealand struggled to dismiss Pujara. The 28-year-old had an incredible series in which he recorded three fifties and one century in six innings. He accumulated 373 runs at average of nearly 75. This was a much more traditional performance from Pujara which showed that he was still India's first choice number three batsman. The last innings in which he scored an unbeaten hundred was the first of three consecutive hundreds that Pujara would score, the other two coming against England.
When England arrived in India, Pujara played his natural game on relatively flat pitches, and was rewarded greatly. He scored two hundreds in the first two Tests and scored a half-century in the third to finish as second-top run-scorer. It was a remarkable return to form for Pujara and it was a delight to watch. He will be looking forward to a home series against Australia next year, which will be a mouth watering contest.
11. Quinton de Kock
By Sean Wilson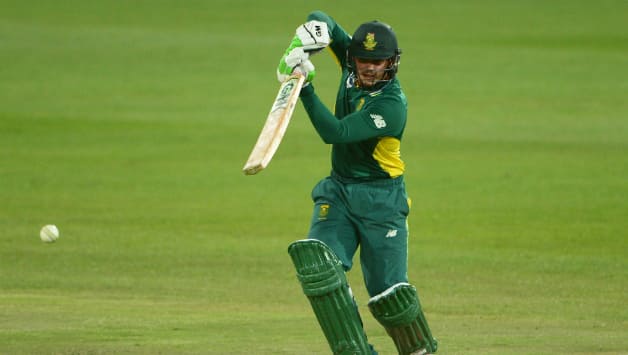 If 2014 and 2015 were breakthrough years for Quinton de Kock, then 2016 was the year when he became a world star.
In his first match back in the South Africa Test side, de Kock instantly made an impact, smashing 129 not out at just under a run a ball in the final Test against England. South Africa lost that series but de Kock had immediately enhanced his reputation. The wicket-keeper/batsman continued his superb form in the ODI series, as he flayed England all around Bloemfontein for his unbeaten 138, keeping South Africa's chase of 400 intact, only for rain to curtail his efforts. De Kock then scored another hundred in the third ODI, helping South Africa overturn a 2-0 deficit to win the series 3-2.
And after another set of encouraging performances in an otherwise disappointing World T20 for South Africa, de Kock again showed his talent and versatility in the Test arena against New Zealand as he opened the batting and scored 82, showing admirable application in the process.
Australia were next in de Kock's sights, as the 24-year-old smashed a remarkable 178, including 11 sixes, in the first ODI at Centurion. It was an innings that confirmed de Kock as one of the most talented one-day players in the game. He continued to torment the Aussies, this time down under, scoring 281 runs at an average of 56.20 – the highest on either side – as South Africa won the Test series 2-1.
It included an excellent hundred at Hobart and in conditions where most batsmen struggled – Australia were bowled out for 85 on day one – de Kock looked a class apart, with his counter-attacking strokeplay at number seven proving to be a match-winning contribution. De Kock has 626 Test runs (average 62.60) and 857 ODI runs (average 57.13) this year, along with 30 dismissals in Tests and 16 in ODI cricket. As a result, the left-hander has now established himself as a real force in international cricket.