When the Rajasthan Royals and the Chennai Super Kings were disbanded due to charges of corruption, the Gujarat Lions and the Rising Pune Supergiants were set up to replace them. Many fans thought it would be impossible to fill the gap left by these successful franchises, but the Gujarat Lions surpassed all expectations in their first season. Will they be able to do the same this year?
IPL 2017: Gujarat Lions Preview
Last Season
The Gujarat Lioins had a very strong season last year, topping the group stages with a total of 18 points. For a newly-established side competing in one of the toughest tournaments in domestic cricket, it was an incredible performance as they gelled as a side instantaneously. They relied on a few individuals at times throughout their season last year, with their seamers carrying the side at times.
Indian seamer Dhawal Kulkarni was the stand-out bowler in their campaign, taking an impressive haul of 18 wickets at an economy of just over 7.4. This was the fourth highest in the tournament and his performance in the tournament earned him a spot in India's squad that toured Zimbabwe after the tournament. Their highest run-scorer was skipper Suresh Raina, who found form after a rough few years of being perpetually included and dropped from India's international side. Raina hit 399 runs at a solid average of just under 30, and it is likely that he will play an equally important role this season, with him expected to bat at three again.
IPL Auction
It must be said that the Gujarat Lions had a rather quiet IPL Auction. This was always going to be their strategy, having retained the majority of their players. With their starting XI likely to be unchanged, the Gujarat Lions only made one overseas signing and instead focused on adding ten further domestic players to their squad. Their high-profile signing was the England opening batsman Jason Roy, who they bought only in the second round and at base-price. In some ways this a peculiar signing, with the Lions already possessing two of the best opening batsmen in the world, in the form of Aaron Finch and Brendon McCullum.
Most of their Indian signings were nondescript, picking up several young and inexperienced players. Out of these purchases, Munaf Patel and Manpreet Gony are arguably the two best established players. Munaf Patel was once a key part of India's limited overs side, but he hasn't played internationally since 2011. His domestic form hasn't been exceptional either, and at the age of 33, his pace is starting weaken. No other team wanted his signature as he was sold at base price to the Lions. Manpreet Gony, on the other hand, went at double his base price and fetched 60 lakh. The medium-pace all-rounder has enjoyed some great form for Punjab in the Ranji Trophy and is no stranger to IPL success. In the 2008 edition, Gony was one of the highest wicket takers in the tournament, taking the most for the Chennai Super Kings. That earned him a call up to India's international side, but he didn't make the most of the opportunity. Now, Gony has the chance to finally make amends, as the selectors will have him on their radar after his recent form.
Batting Unit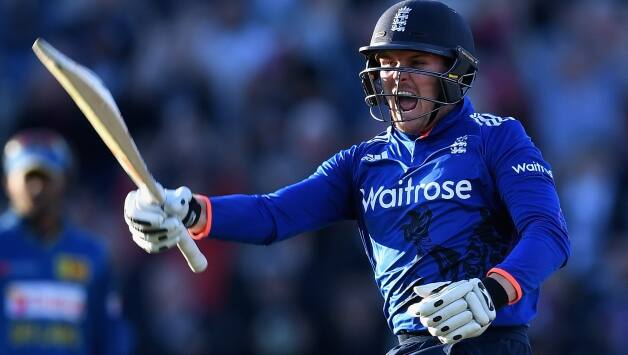 It is hard to find a better pair to open the batting in T20 cricket than Aaron Finch and Brendon McCullum. They are two of the most aggressive cricketers the tournament has ever seen and are both vastly experienced on the international stage. Finch recently captained the Australian T20 side in their tour of Sri Lanka and had reasonable success. He has had an incredibly successful limited overs career, having a T20I strike rate of just short of 150 and an average of around 39. Finch also has T20I top score of 156, the highest score by a batsman in an international T20 match.
McCullum is no less explosive with the bat. In the first ever IPL game, Brendon McCullum smashed a blistering 158 and announced himself with a bang to the tournament. Since then he hasn't looked back, and has been a key part of the IPL for many seasons now. After a long international career, McCullum retired in 2016 and has been focusing on playing domestic cricket around the world instead. Most recently, McCullum took part in the Big Bash League, in which he was controversially banned for one match due to a slow over-rate. Nevertheless, McCullum still dominated with the bat, ending up with 323 runs in just eight matches, the fourth highest number of runs by any player in that tournament. This came at a remarkable strike rate of around 170, which serves to show just how powerful a batsman he is. This opening pair is arguably the best in the tournament and are a delight to watch.
Despite the two overseas openers, the Gujarat Lion's middle order relies heavily on a group of domestic players. The likes of Suresh Raina, Dinesh Karthik and Ishan Kishan will probably make up the middle order, as they did last year. Raina, as mentioned earlier, was the leading run scorer for Gujarat in their last campaign and is coming off the back of some decent international form. Raina played in India's T20 side in their recent series with England, in which he scored 104 runs in three matches, with a top score of 63. Dinesh Karthik was somewhat unlucky not to be playing in the Indian Test side after Wriddhiman Saha was injured against England. Karthik had a prolific season last year, scoring a handy 335 runs at an average of around 25. After this, Karthik carried his form into the Ranji Trophy, in which he amassed an incredible 704 runs, averaging well over fifty. When you include his impressive glovework, Karthik is a useful addition to any side.
The Gujarat Lions team composition is likely to consist of five specialist batsmen, who will be supported by an array of all-rounders. Like last season, Dwayne Smith, Ravindra Jadeja and Dwayne Bravo will be filling these roles. While Smith and Bravo are seam bowlers, specialising at the death, Jadeja will play a key role as a frontline spinner. At the moment, the batting form of these all-rounders is not exceptional. Jadeja has been struggling, on the whole, on the international stage for India and Bravo hasn't played since the Big Bash League, in which he didn't score many runs.
However, the Gujarat Lions can definitely rely on Dwayne Smith to contribute lower down the order. Smith lit up the recent Hong Kong T20 Blitz competition, as he smashed a 40-ball 121* in his first match. He followed this up with knocks of 38 and 68 later in the competition. All three of these players are exceptionally dangerous and have the ability to change the match with a few cameo performances.
Bowling Attack
Since they retained the majority of their bowlers, it should remain the case that Praveen Kumar and Dhawal Kulkarni will lead the Gujarat Lions' attack again this year. Both bowlers were successful last year, especially Kulkarni who picked up the most wickets for them. Kumar was slightly less effective, only managing 9 wickets in the tournament, but he impressed with the new ball early on. The Indian seamer looked unplayable at times and was unlucky not to have picked up more wickets. While these two bowlers were strong at the top, the Gujarat Lions relied on the crafty bowling of Dwayne Bravo at the end of the innings. Bravo, a specialist death bowler, took an incredible 17 wickets throughout their campaign. His slower ball and endless variations accounted for the majority of these dismissals and he is truly a joy to watch. A lively character on and off the field, we can certainly expect Bravo to be using the "Champion" dance throughout the upcoming season.
As well as having a decent seam attack, the spin department for the Gujarat Lions is very strong. The frontline spinner for them will be Ravindra Jadeja, who has been in phenomenal international form. After some man of the match performances, Jadeja rose to the top of the Test bowler rankings, where he is now joint first with colleague Ravichandran Ashwin. Jadeja is known for his exceptionally tight economy rates and his Test economy of 2.24 is the second lowest out of any bowler to have taken of 100 wickets. This is no different in T20 cricket, as Jadeja rushes through his overs and gives the batsmen no time to settle. While he may not always pick up wickets, Jadeja will always be able to build lots of pressure and create a sense of frustration in the opposition.
It is likely that he will be accompanied by Shivil Kaushik, a specialist spinner. Kaushik caught the attention of the public in his debut season, with his bizarre bowling action stealing the headlines. The way in which he bowls with his arm around the back of his head has rarely been seen before, a type of chinaman action. He made an instant impact in the tournament, picking up 3/20 in just his second match, against the Kings XI Punjab. It will be interesting to see if teams have figured him out by now, and how effective he will be.
Overall Chances
The Gujarat Lions retained their entire starting XI from last year, as well as recruiting some extra talent. They are in an extremely strong position heading into this season, as this group of players would already be familiar playing with each other and did remarkably well last season. After topping the group stage last time, they will be hoping to do the same this  year and hope for more success in the knockout rounds. On paper, they have one of the strongest sides in the competition and should easily achieve a spot in the knockout rounds.
Predicted XI
Aaron Finch
Brendon McCullum
Suresh Raina (C)
Dinesh Karthik (wk)
Ishan Kishan
Dwayne Smith
Ravindra Jadeja
Dwayne Bravo / James Faulkner
Praveen Kumar
Dhawal Kulkarni
Shivil Kaushek / Shadab Jakati