On this date 12 years ago, the very first Indian Premier League bowled off and it set in a motion a cricket revolution in the following years. The tournament and this version of the "Gentlemen's Game" has caused much debate, both positive and negative, but what is undeniable is the sheer impact it has had.
With that in mind it's time to look back at a thrilling series, which was eventually won by the surprise package Rajasthan Royals…
The team was led by Australian legend Shane Warne, who acted as both the coach and the captain of the team based in Jaipur. Other key components of the squad included all-rounders Shane Watson from Australia and India's Yusuf Pathan, South African batsman Graeme Smith and the Pakistani duo of wicket-keeper Kamran Akmal and Sohail Tanvir.
The team had talent and experience, but were outsiders to even qualify past the group stage.
The team in blue made their debut against the Delhi Daredevils and were promptly destroyed by nine wickets, with the capital side overhauling the 129 runs set in just 15 overs. One might think that with a team not packed with superstars, that they would fold, but nothing could have been further from that.
Warne rallied his troops and they went on a run very rarely seen in any tournament. His leadership off the field coupled with his captaincy on it, with tactics, especially in the use of his bowlers and field placements showed what an intelligent cricketing brain the Victorian possessed.
They would triumph in their next four games over the Deccan Chargers, Royal Challengers Bangalore, Kolkata Knight Riders and significantly the Chennai Super Kings. It was not just a matter of them winning, but the style, manner and margin of the victories that opened the eyes of onlookers and media alike. Smith was making the runs, Tanvir was taking the wickets, while Watson and Pathen were doing it all as RR, as they would be known, was becoming a well oiled machine.
In the context of T20 cricket, their wins by the likes of 45 runs over KKR and eight wickets over CSK sent a signal that they were to be taken seriously. What was also highly impressive about this team was that whether it was at their home ground of Sawai Mansingh Stadium, away from the friendly confines or whether they batted first or second, their performance very rarely dropped.
They had a "mid-season" blip, as they lost to the Mumbai Indians away from home, but that seemed to galvanise them. They went on to win six straight games, all of them by way of highly professional performances.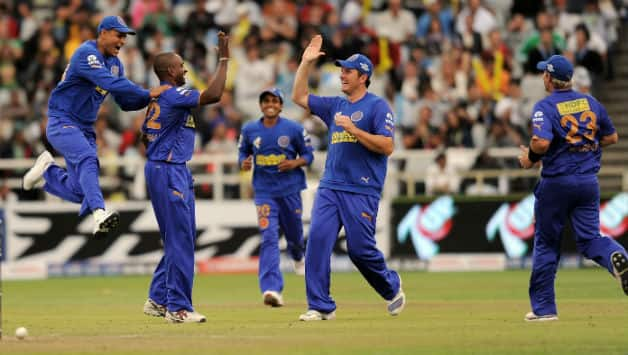 Arguably among their most impressive wins and that is saying a lot were the wins away to KKR and CSK.
In the cauldron that is Eden Gardens, chasing 147, they completed victory with three and a half overs to spare, a massive disparity in T20 terms. Chief among the star performers was a belligerent 18 ball 48 that Pathan pummeled the Knight Rider bowlers and Tanvir who picked up 3-26 from his four overs.
Then facing CSK in Chennai, led by a Smith special of 91 from 51 balls, they racked up a total of 211 and defended it, although the clash went into the final over, as RR triumphed by 10 runs, with Tanvir again bowling superbly.
They would top the league, that despite losing their last game to the Kings XI Punjab, the team who would finish two points behind them. Having won the league stage, they would face the fourth placed team in the standings, who would be the Delhi Daredevils, the very same team they lost their opening encounter against. This time though, there would be no hiccups…
They turned the tables versus DD at the iconic Wankhede Stadium. They batted first and posted a daunting total of 192, with Watson top-scoring with 52, but the likes of Pathan, Swapnil Asnodkar and Smith all contributing. Even with such a large total, they firmly put the screws on the capital team's batting, bowling them out for a paltry 87. Watson and Munaf Patel grabbed three wickets apiece and Warne got a couple of his own, as they comfortably qualified for the final.
They would face the Chennai Super Kings, who themselves had an easy go at it in the other semi-final, beating Punjab by nine wickets. The final would be played at the 55000 capacity DY Patil Stadium and it would be blue vs yellow and it was Chennai who were the favourites with most bookmakers, the media and fans alike.
Rajasthan Royals faced obstacles in the tournament and they faced another in the final, as star batsman Smith would be ruled out due to a hamstring injury. Any team facing their first final and missing arguably their best batsman may look at it as a hard task, but this particular team was not just "any team."
Warne won the toss and choose to send in the opposition on a pitch that had a reputation for being at times two paced with variable bounce.
Rajasthan Royals never allowed Chennai Super Kings to fully get away from them…The team from Tamil Nadu highest partnership would be their opening stand of 39 between Parthiv Patel and Vidyut. The Royals consistently broke any batting partnership when it seemed it was getting away from them. Suresh Raina made the top score for Chennai of 43, while captain MS Dhoni had a strike rate of almost 171, as CSK posted a competitive total of 163. Pathan was the pick of the Royals bowlers, grabbing impressive figures of 3-22 with a fantastic economy rate of just 5.50.
In any final "score-board pressure" is always a factor, as runs on the board can significantly play on the mental aspect of the team batting second.
Rajasthan's start was shaky, as they were 42-3 after almost seven overs and it seemed all that great work in the group stage and semi-final would be for nothing, however, up stepped all-rounders Watson and Pathan. Both men had strike rates of well over 140 and Pathan especially led the charge for the team in blue. The man from Vadodara cracked four 6's in a 39 ball 56. He would be the last Royals batsman to be dismissed with his team still requiring 21 more runs to clinch the final.
Warne and Tanvir were the pair at the wicket and the Aussie legend would hit Ntini for a boundary off the last ball of the penultimate over, which meant eight runs were needed off the final over. You could cut the tension with a knife in Mumbai. The final six bowls of IPL 2008 bowled by Balaji had it all! A wide, a miss from wicket-keeper Patel with two byes, two runs off the bat and it all led to one required off the final delivery. Tanvir faced the final ball, which was short of a length, got bat on ball and he and Warne scampered through for a single to win the match and be crowned champions!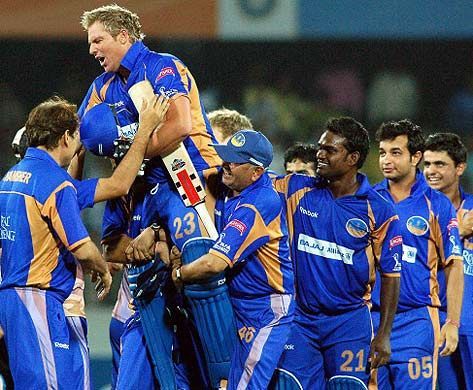 WHAT.A.MATCH.
What that team managed to accomplish will live long in the memory of all who witnessed it.